You may not ever have "enough" time, but everyone has the same amount, so no complaining (no time for it anyway). We all have the same 24 hours in a day. But where do they all go?
Waiting for a meeting to start on Bryn Mawr Time… Waiting for the Blue Bus or Tri-Co Van or SEPTA… The time it takes to commute… That awkward time in between meals and classes… Waiting in line… Waiting… waiting… and waiting…
Reclaim these unexpected bits of time.
Do small tasks. If there's anything you can do in two minutes, do it right away and only handle it once. Make a phone call. Send an email. Prepare for your next event. Consider doubling up by having a meeting over lunch. If you need a break, breathe deeply and mindfully. Use your commute time. Learn something. Do some reading, whether independent or assigned. If you're like me and are prone to getting carsick, listen to lectures or a podcast (my personal favorite is Stuff You Should Know). Or even have someone read your readings to you…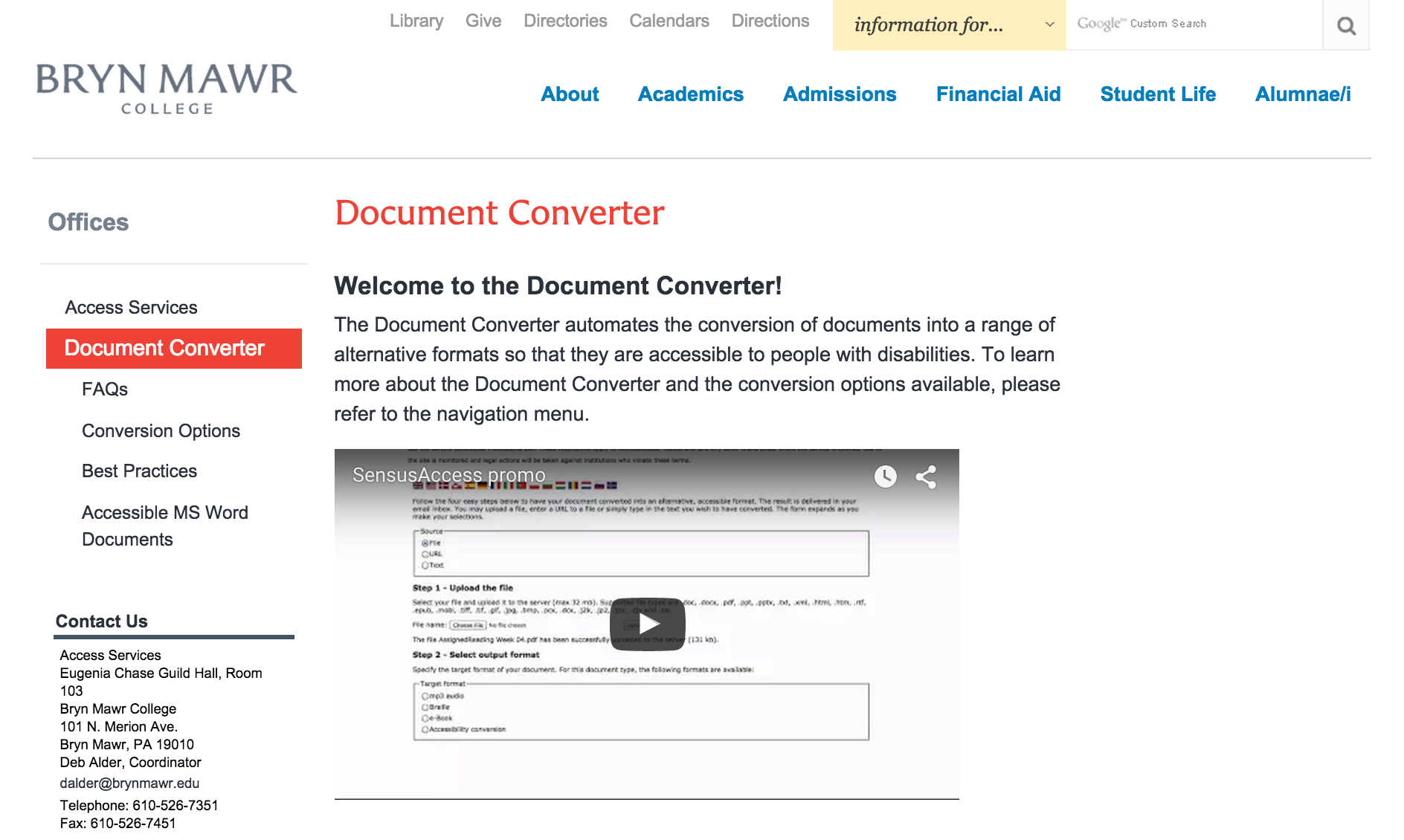 Other than being your best friend, Document Converter is exactly what it sounds like: an automated tool that converts your documents into different formats.
All you need is your campus email address. Then convert to your heart's desire:
Input options: plain text from your computer, web content from a URL, or upload a file.
Output options: MP3 audio (you can even specify language, female/male voice, and speed!), DAISY full text and audio, DAISY Math full text and audio, braille, e-book, accessibility conversion (doc/docx/rtf/pdf/xls/xlsx/csv/txt/htm).
And your converted file will be emailed to you within about 10 minutes!
You'll never have to do another reading on your own ever again! If you're an auditory learner, you can convert your readings to audio files and listen to them on the go. If you're a visual learner, you can convert your readings into e-books to read on your phone on the go.
Pick up those minutes you've dropped along the way and add hours to your day!